Would you like to have the opportunity to create a remix of one of our songs and have us share it with others through our website? We promise to post every remix you send us! In fact, after you're fully satisfied with your own creation, you can even opt to give us permission to release it in some capacity in the future, either as a CD, a free downloadable remix album, as bounes tracks on a USB stick – anything's possible. However, all these things aside, your number one priority should just be to have a hassle-free and fun time experimenting with music you enjoy and are curious about!
This remix package includes everything from samples and loops, to the full vocal and instrument tracks as used on the recording. All samples, loops and tracks are 16 bit, 44.100 kHz, and 107bpm.
If and when you've downloaded the files, please let us know how your remix is coming along, and be sure to share the results with us and everyone else. Have fun!
Get your free remix package here:
The Darkwave Remix Package by The Enright House is licensed under a Creative Commons Attribution-Noncommercial 3.0 New Zealand License (full legal code). Based on the song Darkwave Equals MC Squared by The Enright House.


If I could actually stand on one single toe long enough to think and utter speech, whilst being forced to name three things I currently love, I might yell out the following three things in agony:
[1] Derek Sivers (CEO and founder of CD Baby)
Honestly, this man is such a legend:
I've met too many people who got into music because they loved playing drums, but well-meaning people tell them they need to read some huge book about the business of music and negotiating contracts, cross-collateralization, and points on the agreement. Feeling guilty, they try to go through it but find it boring. Then they start copyrighting all of their songs and trademark their name and set up an LLC. Someone else says they need to have a website, so they try to learn HTML, but someone else says they need to have flash on the site. Then they try to learn flash. The truth is that while all of those things are important, nothing is more important than maintaining your full excitement for what you are doing. If you lose your enthusiasm along the way, things will fail no matter how flashy your site is or if your band name is trademarked. Pay close attention to the compass in your gut. Do the work that's most exciting to you, because that's what you will do best.
[2] Lali Puna
One of my favorite bands ever. So good, so to the point, so city-sidewalk:
[3] The Deadly Deaths
I just bought their album a few days ago at Galaxy after having arrived too early at a meeting. I decided to bridge the wait with some good old record shopping, pick up their CD, and it's been the only playing from my car stereo in days. They are masters at lethargic pop melodies.
Check out their website at www.thedeadlydeaths.com.
It's pretty much time for bed now after what has been an excellent and productive day. I registered for my M.A. thesis, met with the phenomenally sweet and generous Richard Bell and Jeff Fulton, talked to my mommy on the phone for a bit, and even managed to squeeze in a roughly four-hour practice with Simon and Evan tonight. So, I actually feel like I've fulfilled my day's quota for being awake and useful.
However, just before I lie down, I thought I would post a file that Simon sent me through earlier. It's an mp3 of the Camp A Low Hum interview I did with Kirsten Johnstone of National Radio, which also includes the full acoustic version of Scattering the Sun Like Gunshot (EP will be free to download soon).
[display_podcast]
Sleep tight.
Yesterday birthed a rather gloomy post; all apologies to you for having been such a killjoy. Lo and behold, however: the sun did indeed rise again this very morning (much, I am sure, to David Hume's annoyance).
So, today I started work on organizing our next tour (yay tour!!! – ed.). The general idea is to play 10-13 shows, circumnavigating New Zealand's South Island. If you happen to be reading this and live on the North Island: please don't be cross with me or the boys for not being able to make it up this time around, but, unfortunately, we just don't have enough time off between the three of us to make it happen (however, we will be touring up north at least once within the next 9 months: that's a promise).
I've wanted to play some rather more unlikely places for a while now, and when Evan mentioned to me that he had never been further south than central Otago, nor seen much of the South Island's spectacular west coast, I just knew right then and there that we needed to put exploration ahead of exposure and go have ourselves a bit of an old-fashioned adventure!
In fact, I am so rediculously exited about this tour it's already bordering on mania! Haha.
Current plans include playing in Oamuru, Dunedin, Lyttelton, Invercargill, Nelson and Christchurch. In addition, I am researching possible stops in Timaru, Takaka and Motueka, as well as some more unlikely places like Okarito and Stewart Island (my favorite contender). Thus, most of this afternoon and night I've spent hunched over a map, googling countless towns I've never heard of, pillaging the various venue-directories for ideas, and calling and emailing a first handful of venues about availability.
There are still plenty of wildcards left to sort out… Greymouth? Westport? Queenstown? In terms of venues, almost everything is wide open. And where, pray, does one play on a Sunday or Monday night? Is anyone even open? In fact, have I ever bothered to go to a show myself on a Monday night? Oh dear. Haha.
I'm hoping that some of you might even consider inviting us to play in your home? Do you listen to our music and live somewhere where bands don't play often? We are traveling with a tiny PA and are only using a small toy drumkit. Chances are if you have a livingroom, there will be enough space for us to play for you. Do you have ten friends who might want to come over for afternoon coffee or some late-night drinks and live music? Don't be shy, don't think I'm kidding… please get in touch with me (Mark) at "info AT theenrighthouse DOT com" or txt me at 0211028876. For serious!
Also, I really need your help if you have any ideas about towns or venues to play. I'm looking up venues online, but many of the venues have no pictures and not a lot of bands have played Invercargill, for example, so it's often hard to find people who can share their experiences. If you live in or around any of the places that I mentioned in this post and have an idea about where our music (remember, it's an acoustic set) might fit, please let us know.
Finally, if you have a place we could sleep at (we're only three harmless boys), we would totally make you breakfast and play you a happy song over a glass of orange juice.
Ok. I've never done this. I'm excited. Any advice or suggestions? I could really need some help with this…
I've been staying up late again these last few weeks – too late, no doubt. Not being in step with the pitch of the sun, after all, is a dangerous affair. Part of my plan to fight the lethargy and boredom that accompanies the early AM hours is to blog every night, even if only a sentence or two. I feel like apologizing to you in advance for the many unseemly posts that will no doubt follow, prostituting my private thoughts and anxieties for short-lived catharsis.
Shall we, then? Here is a thought:
I just turned 29 yesterday. Next year I might be thirty. When I was 19 I finished the German equivalent of high-school, and was set to become a composer. I went off to university thinking life would finally feel real to me. I am so embarrassed for not having avoided the cliche of being wrong.
Today I stood in a room I didn't want to stand in, with a person I don't like, who, of all things, also had his birthday yesterday. How hideous life can be.
I feel like my life still hasn't started yet. I know it has, of course. I will play the martyr and even accept this as the human (gag) condition. And as my impotent act of defiance and violence I now wish to engrave the following summation of my last decade as 1's and 0's into the sprawling history of our unshepherded species:
I have allowed the last ten years to slip away, and now, even with all the rage and fury I can muster, I simply cannot recall how it all came to be this way, and how it is that I might escape it all. I have failed in so many ways, and I cannot even recall for what. What was it all meant for, the sadness, the humiliation, the fear and the loathing? Who was watching? And what did I stand to gain from it all?
One thing is clear, it wasn't always this bad to be awake, and with sleep no longer providing a remedy, there might not be anything left to do but stop being sad.
Honestly? The horror of depression is consciousness: being mentally present and alert whilst it all continues unabated and unabashed.
I swear, this next decade better be better or I am really going to be pissed.
Remember the rock of the car: the lulling sway of steel frame throttling over veined asphalt towards the hazy blue horizon still suspended in space.
Whir of the wheels, the clickity clackity cassette tapes clattering underfoot – the laconic drawl of Neil Young's "Harvest Moon" crackles lazy from cheap speakers.
The backseat – my head pressed against vibrating glass – sky stretched to infinity. A glowing burnt gold of a late, invisible summer sun.
Driving through anywhere nowhere, it never really matters; the gold and the heat and the drone and the millions of miles of waxy green cornfield stalks whipping past lines of Venetian blind crop formations with thick paper leaves that shimmer shake with the passing car.
Window and windshield cracked, wind snaking around and sifting through my hair. 11-years-old with nothing more in sight and in mind then the timeless tranquil crawl between earth and road and sky. Remember the stillness.
-Mary Jones
I'm a big fan of the following review, written for the silent ballet by Zach Mills. More important to me than his praise is the way in which he discusses A Maze and Amazement's shortcomings.
As a musician – as a human being, really – I have to be able to accept responsibility for my failures as willingly as I accept responsibility for that which I might succeed in. Ruthless critical self-examination, after all, is nothing short of a necessity for personal and artistic growth. Zach's review helped me pinpoint a few things I will have to improve upon in the future – and you know what's great? I'm really looking forward to it.
When did nostalgia become so damn beautiful? I've never really had patience with the emotion, myself – spending too much time thinking about illusory, idyllic visions of the past (that was never really better than the present, anyway) has always seemed like a waste of precious time. But after spending some precious time with the first full-length from New Zealand's The Enright House, A Maze and Amazement, I can't be so sure. All I know is that once you step into the hazy world of past and present, fact and fiction conjured by the quartet, it's difficult to differentiate between reality and illusion, and that's just the way it should be. Read the full review…
I had this intense desire to create a "favorite songs of 2008″ post, but I ran into an embarrassing obstacle: I haven't really listened to any music during this past year. Undeniable proof of this lies in the fact that my most played songs in itunes for 2007 have no more than 7 plays. Ha. That's pretty dire, by any standard.
My somewhat belated New Year's resolution, as a consequence, is to listen to more music in 2008.
So, instead of a 2007 Top-10 itunes songs, here are my 20 all-time most played songs on itunes (roughly 2005-2008):
Slowdive – Machine Gun

Death Cab For Cutie – Stability

Film School – Activated

Arab Strap – Cherubs

Aloha – Ferocious Love

The Books – Take Time

Sleater-Kinney – Start Together

The Jim Yoshii Pile-Up – Reckless Driving

Jakob – Nice Day For An Earthquake

Four Tet – Spirit Fingers

Shocking Pinks – This Aching Deal

Blonde Redhead – Elephant Woman

Pinback – Tripoli

American Football – Never Meant

Modest Mouse – Dramamine

Engine Down – Songbird

Sufjan Stevens – All the Trees of the Field Will Clap Their Hands

Midwest Product – Duckpond

Cranes – Paris And Rome

M83 – Gone
Hi. I'm sorry if you have written to me in the last week or two, sent me friend requests, left messages on my phone, et cetera. Almost certainly you will not have heard back from me. Truth be told, since arriving back in New Zealand and then heading off to camp a low hum, I have been absolutely drowning in responsibilities: getting university enrollment and tutoring jobs sorted, working on my mom's website, playing at camp, rehearsing, getting my apartment tidied up, catching up with friends, working on integrating new equipment into future live sets, helping out a friend with his new album, doing promotion for the Scattering video, making more handmade CD copies of an acoustic EP we recorded recently, looking after my health, and more.
In addition to all of the practical things I have had to deal with in the past 14 days, I've also found it quite hard to deal with the emotional shock of being back in New Zealand, especially after five wonderful weeks at home in the States with my mother. In fear of coming off as a total loser, I have to admit that I absolutely detest being lonely, and, truth be told, I really am terribly lonely here in New Zealand. Human beings are not built for this fast-paced life of ceaseless mobility and superabundant acquaintances. Although we can make due with the world we have built ourselves, and, depending on our criteria for success, even flourish in it to some extent, the inescapable fact of the matter is that we are evolutionarily drawn to family and stable social circles in such powerful ways, that not having close family and long-term friends in one's life on a regular basis is a sure recipe for emotional instability and general dissatisfaction. The contrast of being in the States with my college friends and mom, and now back in New Zealand, where virtually all of my close friends have joined the mass-exodus during the last six months, could hardly be more stark. It's going to take some time to build up the necessary fragile indifference.
If you are one of many wonderful people who have written to me and the band over the last two weeks, and I have not gotten back to you, I assure you that I have received your message and just couldn't find the strength to write you back yet. I'm just really tired. One of these days I'll wake up and the sun will shine, and I will have energy, I will have a cold glass of fresh and pulpy orange juice, and, on that very day, I will carpe that old diem and write you back and tell you all the wonderful things you deserve to be told.
Good night. Rise and shine.
Some of my favorite photos from camp: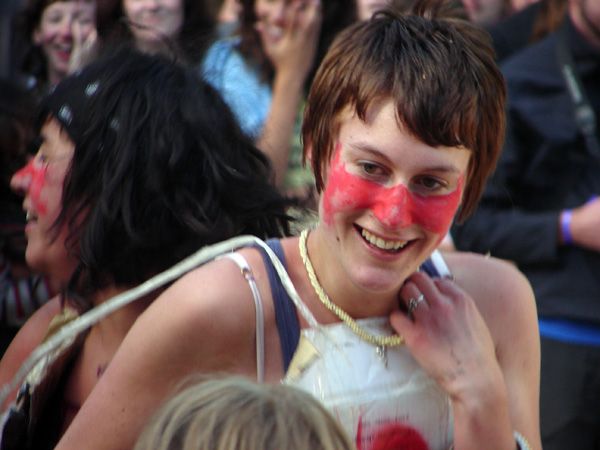 More photos at photobucket.